It began innocently enough. I was, as is often the case, chatting with my older sister. "Any idea what this film is?" she asked, sending me to a stamping blog she frequents called
Cinema Saturday
. I was intrigued. I'd tried to play along before, but this time they claimed to be doing something special. I got sucked in.
The next morning, when the movie was revealed, one of the women who runs the site posted, "Jon and Libby - i love that you have made this a family affair - now Jon, we are expecting you to play along - can't wait to see your card!!!" I have no desire to work with scissors and ink, but, after some consideration, I got an idea. I could use the challenge to play with some CSS and Javascript tricks.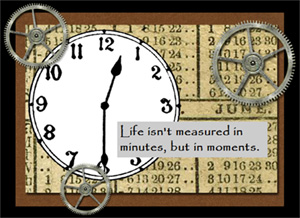 The result is
here
, with a small version to the right. Over at the site, you can click to hide/reveal each individual element of the card, to see how it's put together.
The pieces are:
A gear cut out from this clock at The Clockworks Unlimited. Cutting out the gear was more tedious than I hoped, so I just cut out the top-left corner of the gear and the center, then duplicated the spokes to build a gear (you can tell if you note the repeating white spots). All three gears are the same image file, resized on the fly as necessary.
Brown paper from an Australian stamping store.
A vintage calendar that was

way

too hard to find, and then I closed the tab that had it, and now I can't find it again!
A clock from the awesome Clipart, Etc project at the University of South Florida. If you are or know a student working on a school project, that site is great. I wish that had existed when I was in school.
A plain HTML/CSS block for the text, using the Papyrus font if you have it, but defaulting to other fonts if you don't.
Please click through to see how it's all put together. I'm really happy with how it all came out.